The Westray Wife returned safely to the Heritage Centre in Pierowall this morning after a successful trip south.
The tiny, 5,000-year-old figurine was one of the star attractions at the Amazing Ages event organised by Historic Scotland at Fort George near Inverness last weekend.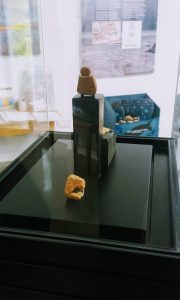 More than 4,000 people saw her at the heritage, archaeology and music event during the two days – more than visit the heritage centre in a whole year.
Historic Scotland's Richard Welander brought the figurine back on this morning's ferry from Kirkwall and she is back in price of place in the centre of the Heritage Centre exhibition hall.