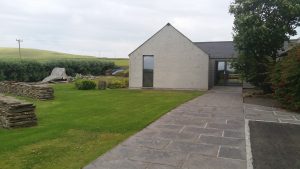 The Westray Heritage Trust s a Scottish charity and a Company Limited by Guarantee. It was formed in October 2004 from the Westray Buildings Preservation Trust to concentrate on the activities within the Westray Heritage Centre. The Trust's primary objective, as stated in its Memorandum of Association, is to promote the advancement of the education of the public in the history, geography, culture, environment and other features of life in the island of Westray.
There are twelve directors, all living in the remote Orkney island of Westray, which has a population of nearly 600. These directors represent a cross section of the island community, ranging as they do in age and occupation.
In 1996, as Westray Buildings Preservation Trust, we raised almost £80,000 to buy and renovate an old village hall (St George's Hall), which was built as a school about 1850, creating the Heritage Centre in the middle of Pierowall village. To accommodate the expanding archive and collection, a new extension was built and opened in 2008, featuring an exhibition hall, video room, archive room and toilet facilities.
Open May – September the Heritage Centre attracts approx 2500 visitors annually and provides part-time seasonal employment for 3-4 people, including students at home for the summer.
A VisitScotland four-star visitor attraction
Over the years we have built up a large collection of black and white photos of historic significance, collated the kirkyard records from the island's three cemeteries and gathered memories of past activities in Westray e.g. schools, kirks, sports, sea transport, Noup Head lighthouse, royal visits, fishing, crafts, World Wars 1 and 2, and we continue to research a fresh subject each year.
In the Heritage Centre there are now databases of many local families dating back to early 17th Century and the Trust has published a number of books and booklets on local subjects.
The Westray Stone
In 1981, when quarrying, workmen unearthed a large decorated stone which was subsequently deemed to be 4000 – 5000 years old. Called the Westray Stone, it is a unique example of Neolithic carving, considered of national importance, and now has been returned to Westray for display in the foyer.
See the Westray Stone on the BBC website:
http://www.bbc.co.uk/ahistoryoftheworld/objects/pfbS6nxEQiOSvYEshpMOXQ