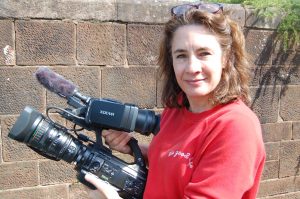 A new film project focusing on the story of the Spanish Armada as it travelled around Scotland in 1588, trying to find its way home after the failed invasion of England, came to Westray last month.
Dr Kirsten MacLeod from Edinburgh Napier University visited Westray to find 21st century links with The Dons – Spanish sailors thought to have escaped from the wreck of El Gran Grifon at Fair Isle and who made their home in Westray. Several Westray folk have links with the now-legendary Dons and anyone with the surname Petrie, Reid, Hewison or Costie may be able to tace their ancestry back to the Spaniards.
With support from the Heritage Trust, Kirsten spent a week in the island, speaking to Westray folk and filming footage for a documentary on the fate of the Armada which will also feature stories from Fair Isle and Mull, where wrecks of Armada ships still lie.
Work has already started on editing the footage, but more filming is due to take place and Kirsten is still keen to hear from anyone who has family tales of their links – real or imagined! – with The Dons. She can be contacted through the Spanish Armada Scotland Facebook page or by contacting us at the Heritage Centre.